Our History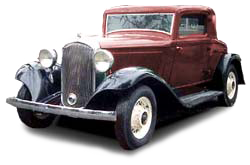 In 1973 Larry Brown opened his machine shop with a government contract to make artillery shells; it became full time business and was located across town from its present location.

In 1974 the location was moved to Thomas Avenue and has remained there to this day. While doing the artillery shells for the government the plant boasted as many as 70 employees.

To diversify the shop Larry bought his first Plymouth 1933 PCXX Coupe finding that it was impossible to buy parts, he fashioned his own, thus the antique parts portion of the business was started.

The workload began to change as a government plant was opened in Kentucky for defense contracts. At N/C Industries they continued to develop prototypes for the government and the tool room was always busy making specialized parts that various companies needed.

Kevin Brown worked with his father Larry through high school years and then joined the company full time after graduation. In April of 1987 he and another long time employee Bob Petrushek bought the company and became partners in what is today known as N/C Industries. Tragically the two young men lost their mentor Larry Brown in a plane crash later that year.

The company continued to grow the antiques part department and in 1988 a fabrication shop in Jamestown was purchased making it the only company to manufacture Windshield Frames for most Antique Cars and Trucks.

Today N/C Industries has over 500 patterns of Windshield frames and they continue to do all types of street work such as electronic housing shafts. Customer satisfaction remains the number one priority and Kevin and Bob strive to help any customer who needs a specific part.